Jan Gates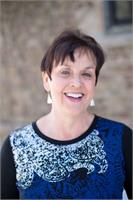 A Pittsford native, Jan has been teaching and directing programs in the fitness and wellness field for many years. Previously she was Group Fitness & Wellness Director at the JCC for over 15 years and was Health and Golf Club Manager at Woodcliff. She currently is a personal trainer, yoga and pilates instructor at Midtown Athletic Club in Rochester. Jan holds a Masters degree in Education, is certified by AFAA (Group Exercise), Kripalu Center for Yoga and Health, and has trained at Stott Pilates in Toronto. She is currently working on her advanced yoga teacher certification and programming for special populations. Jan is also a certified personal trainer, spinning instructor and a Reiki Master. In addition to teaching, she enjoys fitness coaching, giving workshops and designing individual fitness programs. Her playful and often humorous style invites students to explore their bodies from the inside out and realize that it is never too late to start an exercise program and make progress! Her professional mission is to help people feel strong, fit and healthy on all levels- body, mind and spirit. A resident of the Corn Hill area of Rochester, in her spare time, Jan enjoys biking, kayaking, skiing, photography, gardening, quilting, and travel.
Jan Gates instructs the following:
This restorative yoga class will focus on specific stretches and strengtheners for the neck and shoulders during the first part of class. The second section will be dedicated to restorative postures and guided relaxation.

No previous experience is necessary, however participants must be able to get up and down from the floor. Please bring your own blanket and small pillow. Limited supplies of blocks, straps, and yoga mats are available.

Date: Thursday October 18th 7:15-9:00 pm

$25 per person, if paid and registered in advance.
$30 per person, at time of workshop




A basic knowledge of Pilates is helpful, but not necessary.

The instructor will tailor the class to the level of the clientele...offering a variety of modifications or challenges to allow you to personalize your class experience. Props will be incorporated also...toning balls, gliders, Pilates Circles, toning bands, light weights, stabiltiy balls, and more.




Give yourself the gift of relaxation as Jan Gates guides you through 75 minutes of gentle yoga and meditation. Props such as bolsters, blankets, and blocks will be used to assist you through your poses. Poses vary from easy to challenging and participants are accommodated at every level.




A slower paced mat class that combines familiar Yoga poses and Pilates core and strength work. The major focus of the class will be on stretching and easing through tightness as you increase flexibility. Open to all levels.

Wear clothing suitable for yoga or pilates...leggings or similar, close fitting top, bare feet or non skid socks are advised.